Attractions
BEACHES - The beaches play an important role in Abruzzo come summertime as families arrive to soak up the sun and cool off on the Adriatic Sea. Most beaches are sandy and are protected from the breaking waves by large rock formations strategically positioned circa 100m from shore.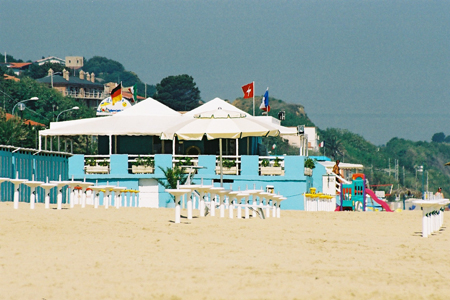 Where there is a beautiful beach there will inevitably be some entrepreneur renting part of it from the local 'Comune', therefore splitting the sandy shores into private and public stretches. The private areas can be eaasily recognised by the inclusion of a Bar or Pizzeria, and orderly positioned umbrellas and deck-chairs.
The Italian summer generally occurs in the months of July and August, especially the latter when most of Italy closes down and goes on holiday. Most schools close at the end of June so the weekends in July are usually busy along the coast. May, June and September are the more tranquil periods on the beach, although the surrounding facilities may be closed.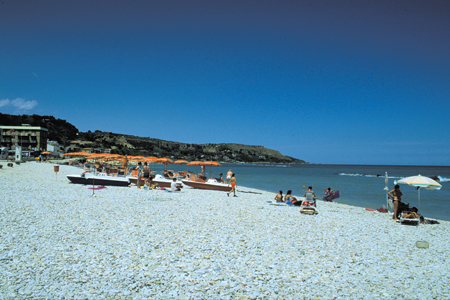 Fossacesia, the closest beach to your proposed accommmodation in Archi is a 20min. drive. Others which we would recommend are Le Morge at Torino di Sangro and Casalbordino, another 5 and 10 minutes down the coast.
PARKS - There are 4 major National Parks in Abruzzo. Information for each can be obtained by clicking on the appropriate logo on the map below.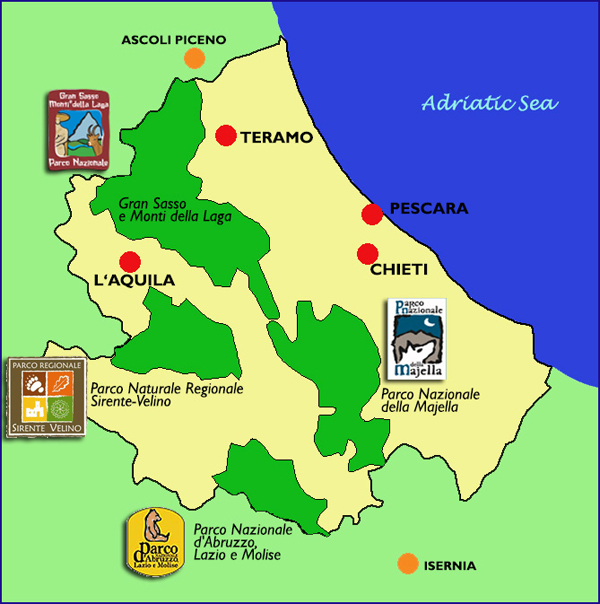 TOWNS - The many villages and towns (Comuni) strategically positioned throughout Abruzzo offer the visitor a new world to explore. At first glance one might wonder why someone would build houses on top of large hills or why anyone would want to live there.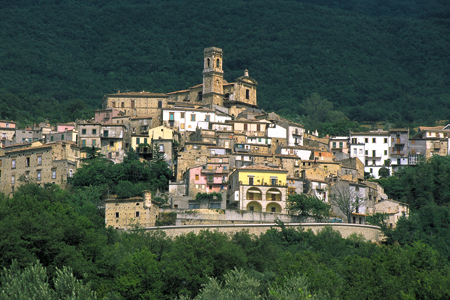 Many of the buildings have been there for centuries, again one might wonder if anyone still lives there. Large motor vehicles did not exist when these towns were constructed, hence the narrow streets and therefore the need for Fiat's Seicento and Cinquecento. It is a delight just to take a walk around some of the quaint little villages and learn something about how the Abruzzesi live.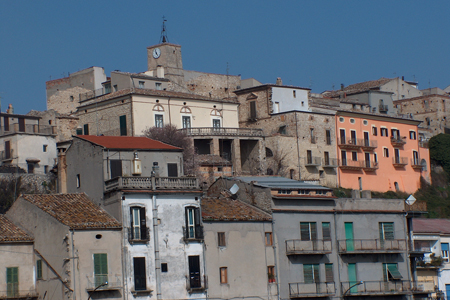 Each town will have its own Piazza, usually the centrepiece, a communal meeting place where you might find a monument, seating area, park and more often than not a Bar. Sunday morning will find the male population mulling around chatting while the womenfolk take the children to Mass.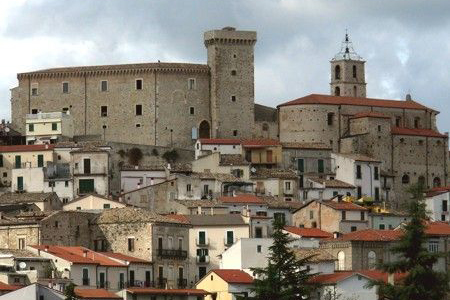 Most are self sufficient regarding Police, Doctors, Architects, Butchers, Bakers, Schools, Post Offices etc. unlike some other countries where most institutions have been centralised.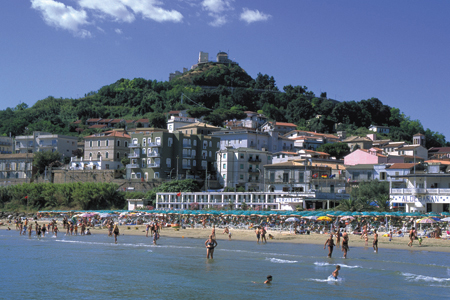 Another prominent and regular feature in each of these towns is the Chiesa (church) which might date back to medieval times or even before - you don't need to visit the Sistene Chapel to see works of art.
CHURCHES - Italy has a rich architectural heritage with very broad and diverse styles classified not solely by period but also by region.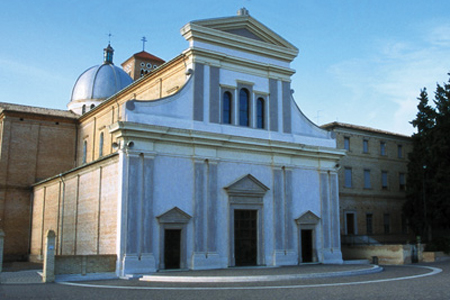 Obviously the more famous buildings include the 'Duomo' of  Saint  Peter's Basilica, the Colosseum, the Roman Pantheon, but with Italy being a very 'religious' country, each community has at least one  structural gem, a focal point of communal gathering, not just a place of architectural grandeur, but a building which is used regularly, if not daily, by the local residents.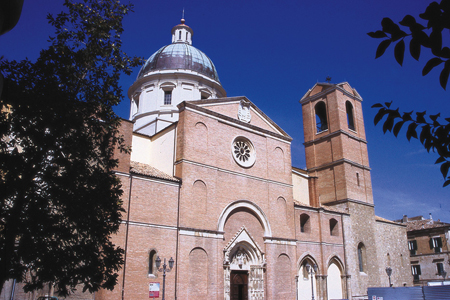 Abruzzo, with over 300 such 'comuni', offers a wide range of  architecture dating as far back as the first millennium, including various styles such as romanesque, baroque, gothic and neoclassical.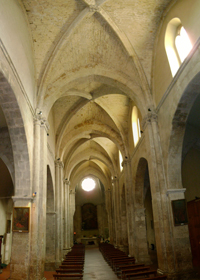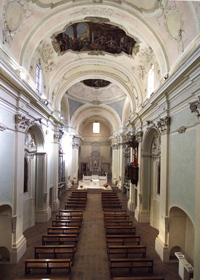 CASTLES - Like anywhere else in the world fortifications were constructed in Abruzzo, in the form of castles, including residential quarters to house local gentry.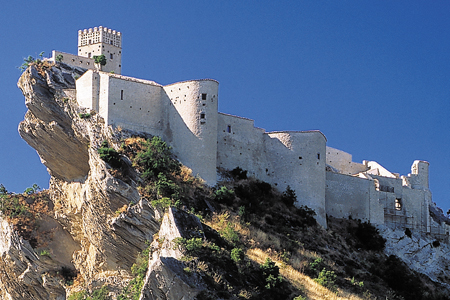 Some lie in ruins but many have remained intact and have been looked after well throughout the centuries, while others have been reconstructed after earthquakes or damage as a result of war.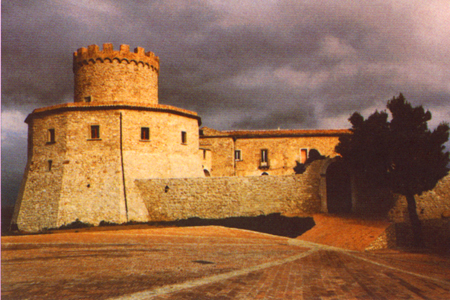 ACTIVITIES - Should there be any energy left after visiting these other attractions there is still plenty to see and do. In Chieti the National Archaeological Museum of Abruzzo exhibits the famous 'Guerriero di Capestrano' (Warrior of Capestrano), a stone sculpture from the 6th century.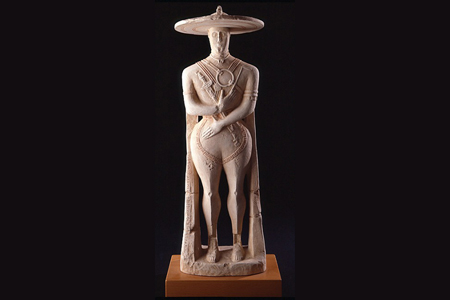 Close to the town of Taranta Peligna can be found the 'Grotta del Cavallone', a mountainside cave housing many types of mineral formations. Accessibile only by cable car it offers 30 minute walking tours for the adequately dressed.
Abruzzo rafting on the Aventino River offers an energetic means of getting your hair wet. Guide accompanied family/group trips down river in an inflatable raft.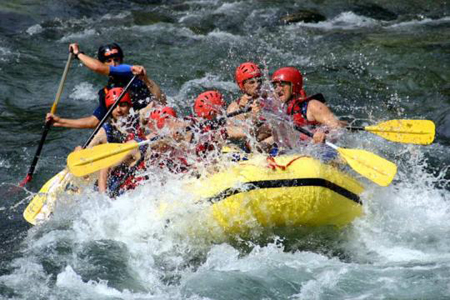 Another means of cooling off during the summer months is at Aqualand, a fun day out for all the family at the water park at Vasto.