REGIONAL NATURAL PARK OF SIRENTE- VELINO
Parco Naturale Regionale del Sirente-Velino, established in 1989 covers an area of 50,288 hectares and is situated in the Province of L'Aquila. It includes the middle valley of the Aterno, the Subequana Valley, the "Altopiano delle Rocche" which consists of a system of plateaus, and the northern part of Marsica. It is surrounded by some of the most imposing mountain chains of the Apennine, the twin peaks of the Velino (2,486m) and of the Cafornia (2,424m), and the Sirente (2,348m).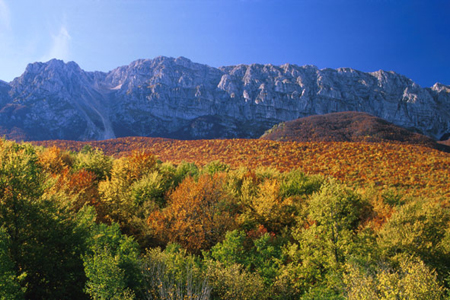 The great variety of environments at varying altitudes make the area very rich in floral species, from the most common narcissus, which during the late spring covers the plateaus of the "Rocche", to the rare and also endemic ones which can be found both on the Sirente and on the Velino. There are also many medicinal plants, fruits, mushrooms, and truffles (the latter to be found in the valley of the Aterno and in the Subequana valley). The beechwoods are one of the main features and attractive aspects of the Park, above all on the northern slope of the Sirente, which extends itself for more than 12km, from Rovere up to Gagliano Aterno.
At least two herds of wolves live among these mountains. There are also foxes, weasels, stone martens and many herds of wild boar. The porcupine also populates the area, while the European wild cat is rather rare, and the bear has been seen occasionally but regularly. The presence of the Orsini's viper, the green lizard, and the salamander is also of interest.
The avifauna is very rich, with four couples of golden eagles, buzzards, sparrow hawks, kestrels, and a number of birds of passage among which, in some seasons, storks, cranes, and herons.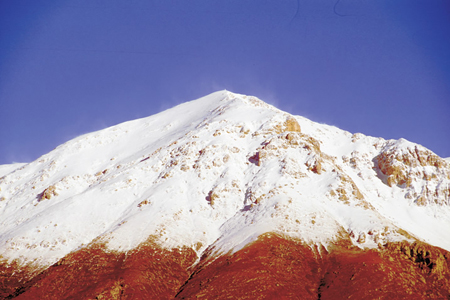 Points of Interest
Acciano - Fortified village.
Castel di Ieri - Medieval square tower (14th century).
Castelvecchio Subequo - Historical centre with early Christian archaeological evidences.
Fagnano Alto - Fortified village of Castello.
Fontecchio - Medieval village where it is still possible to find artisans' workshops.
Gagliano Aterno - Castle (1328), the Monastery of S. Chiara and the Church of S.Martino (14th-15th century).
Goriano Sicoli - Church of S. Gemma (1553) and the Parish Church of S. Maria Nuova (16th century).
Molina Aterno - Castle-palace and the bell tower of the Church of San Nicola (1631).
Ovindoli - Starting point for excursions: the Mountains of the Magnola, Serra di Celano, Gole di Celano.
Rocca di Cambio - Highest town of the Apennine.
Rocca di Mezzo - Sacred furnishings preserved in the Museum of the Cardinal Agnifili, the "Tre Archi". The "Festival of the Narcissus" (last Sunday of May) and the "Gara del solco" are worth mentioning.
Secinaro - Dominating the Subequana Valley, it is the seat of the "Comunità Montana Sirentina".