MAJELLA NATIONAL PARK
The Majella National Park (Parco Nazionale della Majella) encloses an area of over 74,095 hectares and includes parts of the Provinces of Pescara, L'Aquila and Chieti. It was established in 1991 and became part of the World Heritage of national parks in June 1995.
The Majella mountain range has more than 60 peaks of which 30 are over 2,000 metres, including Monte Amaro, at 2793 m. the second highest peak of the Apennines, monte Acquaviva, 2737 m., monte Focalone, 2676 m., monte Rotondo, 2656 m., monte Macellaro, 2646 m., Pesco Falcone, 2546 m., Cima delle Murelle 2598 m.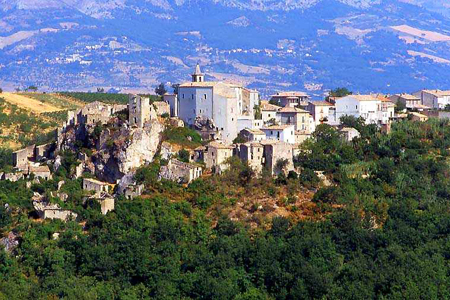 Among the vast upland plains emerge the gorge called Vallone di Femmina Morta at over 2500m, and other gorges which cut into the mountain from its peaks down to its foothills. Another is the Valle del Foro which is rich in beechwoods and water courses, and habitat of rare species such as the white-backed woodpecker, the goshawk and the golden eagle.The Majella National Park is home to endangered species, 3 of which are the wolf, bear and Abruzzi chamois.
The flora and vegetation present in the Park are also remarkable. Its position as the most southerly part in Europe of the Alpine region means it is a crossroads of genetic flux, with categories of great environmental and phytogeographical value: with over 2,000 different specimens the Park is host to 67% of the flora of the Abruzzi, 36% of Italian flora, and 22% of European flora. The forest landscape of the Park is represented by deciduous temperate forest of various types: sub-Mediterranean oak, birch, cerris, beech, and also by evergreen plants, from the great expanses of Alpine pines at high altitudes, to the more sporadic and rare ilex and black pine woods.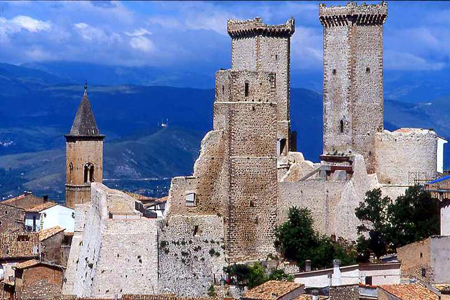 Visitor Centres
Fara San Martino (CH) -  Tel. and Fax 0872/980970
Natural history museum where habitats of the Majella are reproduced: gorges, ravines, upland plains, woods, pine forests. Hikes in Valle di Santo Spirito and Sorgente del Fiume Verde (springs).
Lama dei Peligni (CH) - Tel. and Fax 0872/916067
The "Maurizio Locati" Visitor Center has sections dedicated to the Abruzzi Chamois and archaeology.
Botanic Gardens "M. Tenore". Aviaries with birds of prey in rehabilitation.
Neolithic Site, S. Angelo cave (worship place) and Cavallone caves, characterized by many stalactites.
Caramanico Terme (PE) - Tel. and Fax 085/922343
"Paolo Barrasso" Visitor Center has a section dedicated to the geomorphology of the Majella, the otter's habitat, and an archaeological section. Hikes in Valle dell'Orfento, Hermitage of San Giovanni.
Sant'Eufemia a Majella (PE) - Tel. and Fax 085/920013
"Daniela Brescia" botanic gardens, extending over approximately 4 hectares.
Hikes to Lama Bianca, provided with trails suitable for disabled people.
Pacentro (AQ) - Tel. 349/1539782
Historical centre. Hikes to Mt. Morrone, Passo San Leonardo and Fonte Romana.
Pennapiedimonte (CH) - Tel. 0871/897460
Hikes to Vallone di Selvaromana (gorge), Mt. Focalone, Mt. Acquaviva and Cima morelle. Look-out point for the Abruzzi chamois.