GRAN SASSO AND MONTI DELLA LAGA NATIONAL PARK
Established in 1991 the Parco Nazionale del Gran Sasso e Monti della Laga covers an area of 150,000 hectares and includes the Provinces of L'Aquila, Teramo, Pescara, Rieti and Ascoli Piceno.
The Park consists of three groups of mountains - the chain of the Gran Sasso d'Italia, the Laga and the Monti Gemelli - and is characterized by the presence of the highest summit in the Apennine ridge, the Corno Grande, which reaches 2912 metres, and the only Apennine glacier situated in Southern Europe - the Calderone.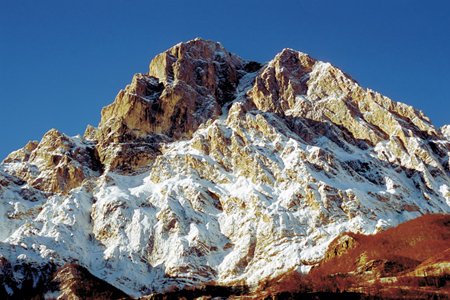 Over 2000 species of rich vegetation live in the territory of the Park, due to the high altitudes and the different geological substrata with the most precious floral elements growing on the highest peaks. While the Gran Sasso is characterized, above all on the slope of L'Aquila, by wide pastures, the Mountains of the Laga are mainly covered with forests. At lower altitudes there are oak and chestnut woods, the beech wood being the largest, growing at altitudes between 1000m and 1800m. Maples, lime trees, ash trees, and elms cover the gorges. On the Laga there are also silver fir woods and some nuclei of birches.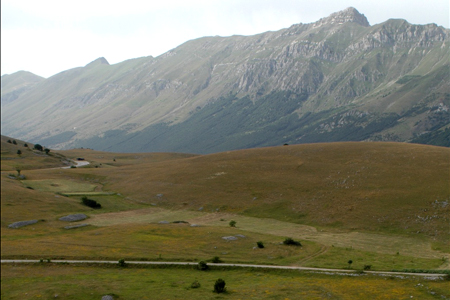 The most interesting animal of the Park is the Abruzzo chamois. Other big herbivores like deers and roebucks live in the territory of the Park, along with their main predator, the Apennine wolf and the brown bear. Among the other mammals there are martens, wild cats, badgers, beech-martens, polecats, porcupines, and several other species of rodents such as the snow vole. Birds of prey like royal eagles, goshawks, peregrines, lanners, and eagle owls can also be found.
Visitor Centres
Convento San Colombo - Barisciano (AQ) - Tel. 0862/899025
Floristic Center and Botanic Gardens
Macchia da Sole (TE) - Tel. 0861/93469
Park Visitor Center
Pietracamela (TE) - Tel. 0861/959619
Park Visitor Center
Rocca Santa Maria - Frazione Ceppo (TE) - Tel. 0861/629020
Park Visitor Center
San Pietro di Isola del Gran Sasso (TE) - Tel. 0861/976070
Center for Waters Gran Sasso
Santo Stefano di Sessanio (AQ) - Tel. 0862/899117
Park Visitor Center
Farindola (PE) - Tel. 085/823100
Park Scientific Pole - Chamois Museum, Geology Observatory, Chamois Faunistic Area
Montorio al Vomano (TE) - Tel. 0861/500203
Documentation Center of the Park Protected Areas - Palazzo Patrizi