NATIONAL PARK OF ABRUZZO, LAZIO AND MOLISE
The National Park of Abruzzo, Lazio and Molise (Parco Nazionale d'Abruzzo, Lazio e Molise), established in the year 1922, spreads over an area of 130,000 hectares in the regions of L'Aquila, Frosinone, Isernia.
The mountains of the Park present a varied and interesting environment in which gentle peaks, typical of the Apennines, alternate with steep slopes similar to the Alpine landscape. The higher peaks are Petroso (2.249m), Marsicano (2.245m), Meta (2.242m), Tartaro (2.191m), Jamiccio (2.074m), Cavallo (2.039m) and Palombo (2.013m).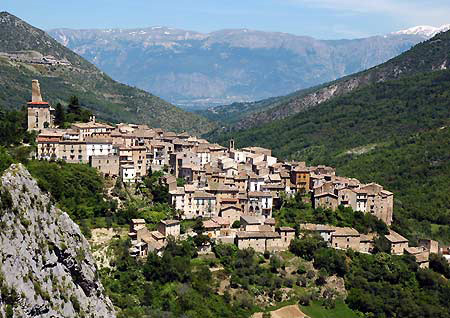 The central area of the Park is crossed by the river Sangro, which also feeds the artificial lake of Barrea. Lake Vivo, of natural origin, is situated in a depression about 1,600m above sea level and varies in size as it is partly fed by its own springs and partly by the melting snow. Other lakes include Pantaniello, Scanno, Montagna Spaccata, Castel San Vincenzo, Grottacampanaro and Selva di Cardito.
The Park is home to the Abruzzi Chamois, the Marsican Brown Bear, the Wolf, the Deer, the Golden Eagle, the  White-backed Woodpecker, Golden Owl, Raven, Coot, Grey Heron, Orsini's Viper and the Yellow-bellied Toad.
Two thirds of the territory are covered with beech tree woods which represent one of the largest continuous extensions of the whole Apennine area and above the beech tree wood, the high-mountain stony grounds house formations of Swiss Mountain Pine. Among the floristic peculiarities, Iris marsica stands out, an endemic species growing only in some locations and blooming between May and June. Moreover, there are several and multicolored orchids: the most beautiful, big, and rare is without a doubt the Yellow Lady's Slipper (Cypripedium calceolus), blooming in the most concealed corners between May and June.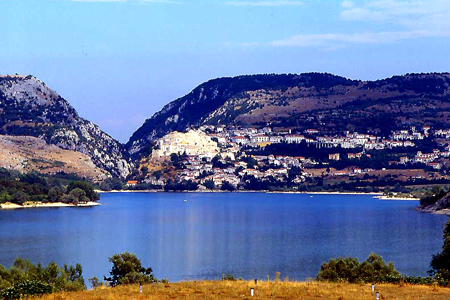 Visitor Centres
"Centro Natura" (Nature Center) - Pescasseroli - Tel. 0863/9113221
The Museum presents the Park through modern dioramas, relief models, bright panels, and thematic exhibits.
Adjacent to the museum there is a Faunistic Park and Apennine Garden where you can observe specimens of the main fauna and flora living in the Park.
"Centro Lupo" (Wolf Center) - Civitella Alfedena - Tel. 0864/890141
The Museum is dedicated to biology, ethology, history, culture, legends, and education regarding the wolf and its relationship with man; adjacent to the Museum is an enclosure where it is possible to observe the wolf closely and nearby there is also another Faunistic Area housing some specimens of lynx.
"Centro Orso" (Bear Center) - Villavallelonga - Tel. 0863/949261
Small pond with plants and animals. On a hill overhanging the historical town center there is a small Botanic Garden including the most common and typical vegetal species of the Park. Adjacent to the Museum there is an area suitable for observing the bears in a semi-free state.
"Centro Rapaci" (Bird of Prey Center) - Barrea. Structure situated above Gole di Barrea from where it is possible to observe birds of prey in their natural environment.